Flight Facilities + The Kite String Tangle @ The Forum 13-09-18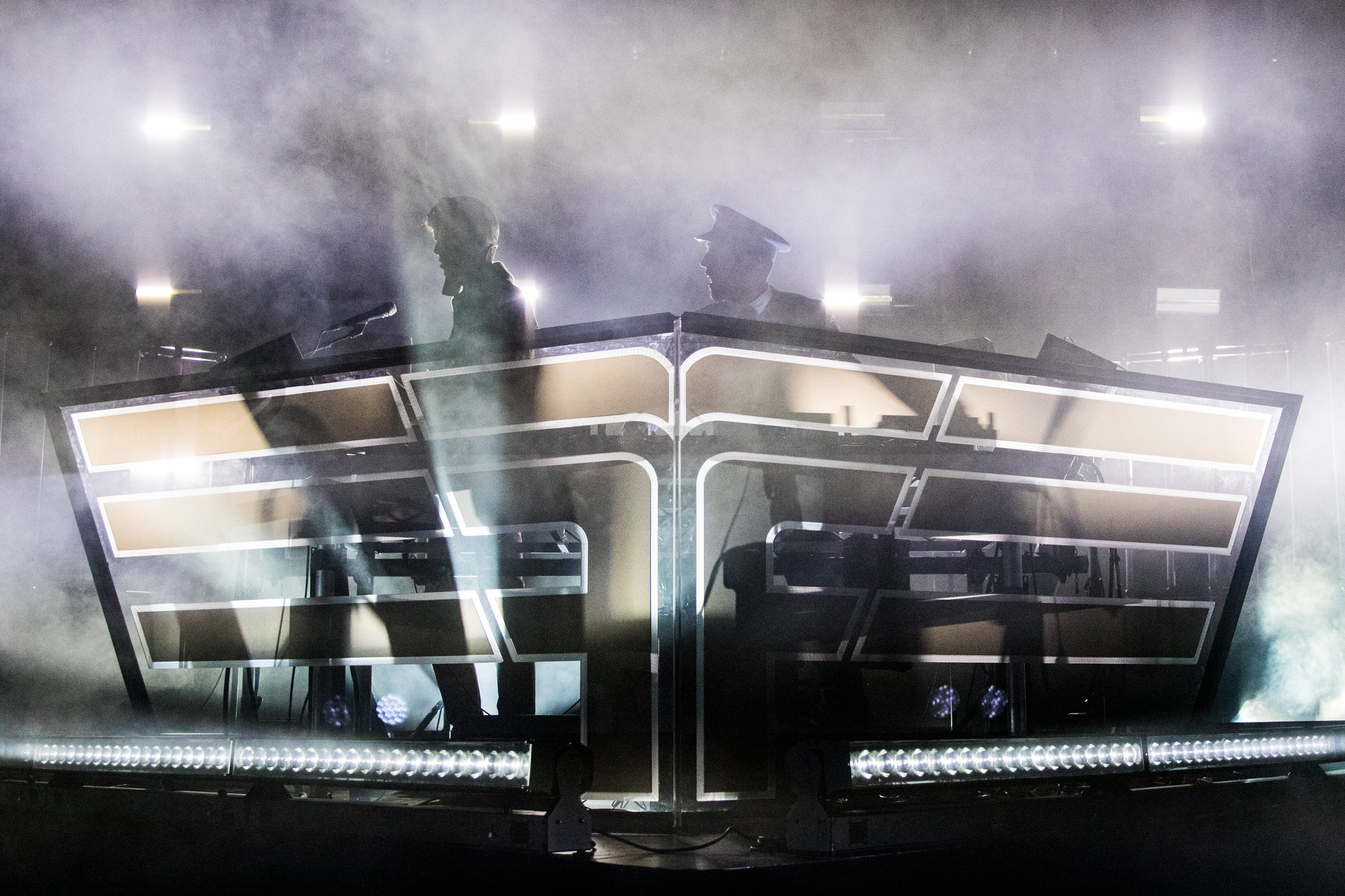 "…you also get the sense they're used to showing up to venues around the world and going as big as possible."
Flight Facilities want you to have a good time. 
Pulling off all the stops at their first of two Melbourne shows (and the second last night of their Australian dates) at The Forum for their All Your Love Tour, the Australian duo of Hugo Gruzman and James Lyell swung for the fences – bringing out special guests to help pack the sold out venue's dance floor.
Opening act The Kite String Tangle started the night off with poppy electronics. There's a measurable ease to what Danny Harley does – or at least an ease in how he presents his work. One can appreciate the contrast between the lightness of Harley's vocal timbre and the briskness of the beats. Often, his voice is used more to build into the instrumentals; welcoming the deep womp-womp bass lines that are even further augmented by the (welcome) addition of a live drummer.
"The Prize" sounded like the type of happy-go-lucky soundtrack you want to surround yourself in on a warm summer day. "Arcadia" also drew a cheer from the audience, as did "Praise You" – a remix of the Fatboy Slim track used to close the 40-minute opening set. It was an interesting selection, drawing further attention to the fact that many of The Kite String Tangle's instrumental breakdowns could toe the line on cartoonish "Hamster Dance" territory. It sits comfortably in that divide between energetic electronics and hyper-ized '90s nostalgia and it helped to warm the crowd up for what was to come. 
By the time Flight Facilities took to the stage, a repetitive robotic voice declaring "Here is what you came for" reverberated throughout The Forum.
The electronic duo stepped on stage donning their signature pilot outfits – Gruzman in his flyboy cap and bomber, Lyell wearing the more modern take. These gimmicks are certainly purposeful, helping to distinguish the band from their peers. They made further use of the airplane motif later in the night, stepping off the stage as Claude Debussy's "Claire de Lune" accompanied videos of (literal) airplanes. It was a nice nod to Debussy's original, given Flight Facilities have their own track of the same title. Theirs also got a run as they returned – a sweet gentle lullaby featuring ghostly vocals, drawing the audience into a trance-like appreciation.
It was mostly all high energy, though. "Let's party on a school night!" came the rallying cry from Lyell at one point – acid house beats soon dropping into Daft Punk's "Around The World".
From the get-go, it would be their accompanying vocalists that would sell the material. Melbourne's own Brooke Addamo, otherwise known as Owl Eyes, set the tone with an energetic appearance. She worked the front of the stage particularly well, strutting in front of the mixing desk – a place that the Flight Facilities guys held down all night.
They also brought out a live saxophonist plus additional vocal help from the likes of Ric Rufio who took their material into R&B territory on tracks like "Sunshine"; singer-songwriter Dustin Tebbutt with acoustic guitar in-hand for "All Your Love"; and a disco-tinged cover of Jamiroquai's "You Give Me Something" with Kurt Kristen taking lead.
Indeed, a Flight Facilities show goes beyond your DJ set with plenty of entertainment value. Maybe it's a lucky thing to catch them in Australia because they're able to bring out so many of their homeland friends – but you also get the sense they're used to showing up to venues around the world and going as big as possible. 
"Melbourne, thank you so much," Lyell would later tell the appreciative Melbourne audience. "Every time we come here it's amazing. It's so fucking loud on stage because of you guys."
This is for good reason. Much like airplanes themselves, Flight Facilities are definitely adept at making your ears pop.*
* … I apologize for that cheesy plane joke. All things considered, it just felt necessary.
Ditch This Magazine