Angie McMahon + Leif Vollebekk + Hayden Calnin @ The Forum 06-09-18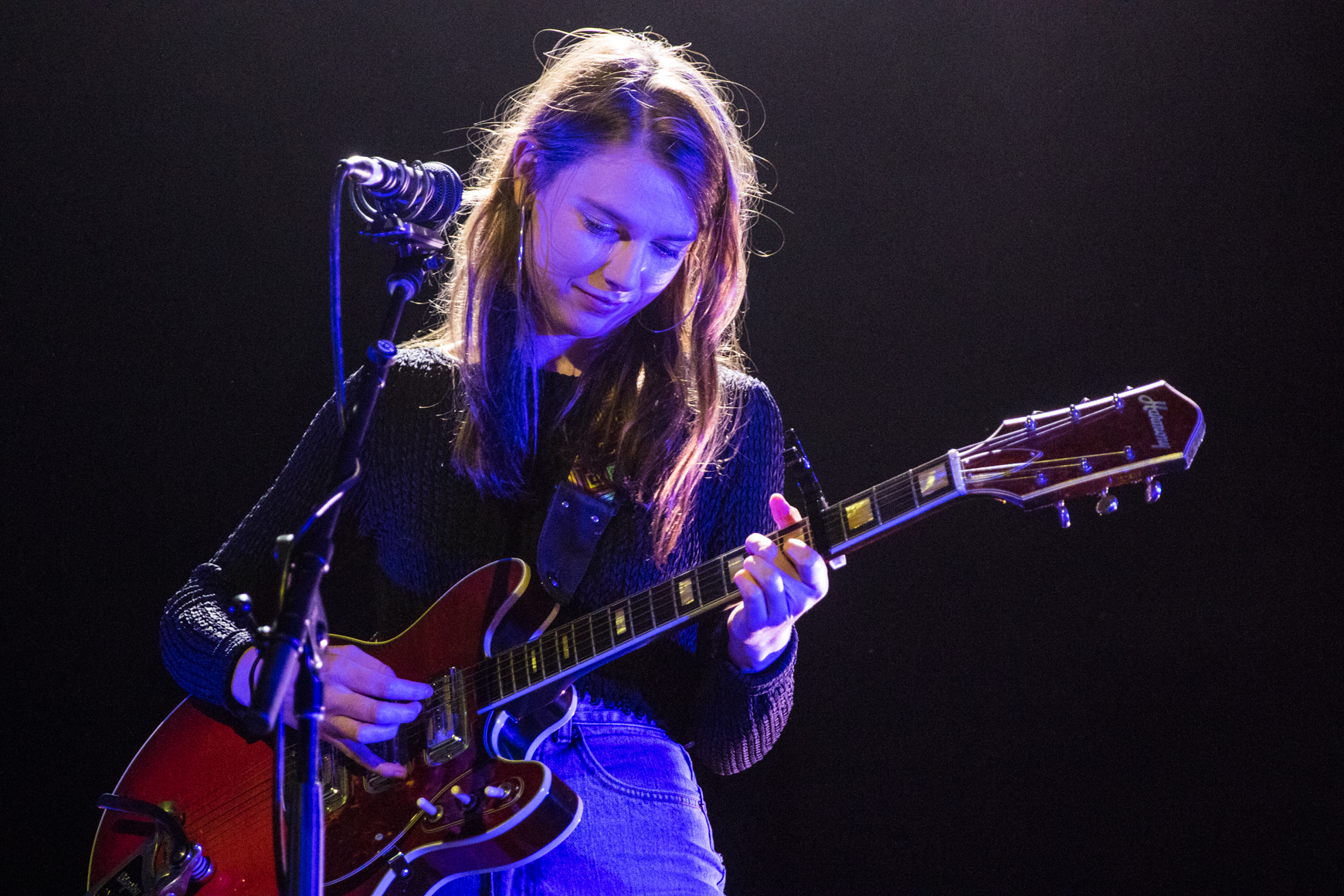 '...putting on display her incredible and distinctive voice which absolutely soared through the venue.'
Angie McMahon's stock is definitely rising.
The Melbourne-based artist had a close-to capacity Thursday night crowd at The Forum firmly in the palm of her hand. She seems to be appreciating the moment, too, smiling as audience members sung back lyrics and detailing her year-long journey to The Forum's stage. McMahon told everyone that her and her manager Charlotte had been making it all up as they went along – pinpointing her performance at Brisbane's BIGSOUND back in 2017 as the moment where it all began. Since, she's gone on to be a triple j darling and helped open this year's Laneway Festival, too.
It's evident that McMahon is still enjoying everything as well. The novelty of success and the genuine appreciation for her fans is a really nice thing to witness. On the way up, she's also actively showcasing artists she adores – taking the opportunity to share The Forum stage with some of her own personal heroes. 
First up was Hayden Calnin, a fellow Melbournian who played a stripped down solo set. From behind a keyboard, Calnin offered up songs about how much he hates Collingwood (the neighbourhood, not the footie team he clarified) and a cover of Frightened Rabbit's "Keep Yourself Warm. On this, Calnin let his voice carry it, sprinkling in just a few notes here and there. It was sparse and heartfelt – a well-delivered tribute to his musical influence, the late Scott Hutchinson.
He was followed by Leif Vollebekk, a Canadian making his first trip to the land down under. His eccentricities were apparent and, frankly, delightful.
Right from opener "Vancouver Time", one could tell that Vollebekk has an odd streak. When his pedal board crashed to the floor (morphing it into an unexpected drone remix of sorts,) he laughed to the stage tech who came to fix it, telling her he was actually kind of enjoying it.
"Angie asked me to come play some songs," he said by way of a self-introduction. "I thought this was a great chance to visit your place and hangout with those statues over there. Cool. Very serious."
Switching between piano and guitar for the duration of his set, Vollebekk's voice offered plenty of emotion on his original material, a line from Kendrick Lamar's "LOVE", and a cover of Prince's "How Come You Don't Call Me" on which the audience jumped in for a backbeat and singalong ending.
Vollebekk is as much an enthralling performer for his musical talents (of which he has many) as he is for his quirks, throwing himself into his performance with a sense of reckless disregard for public opinion – though he does seem to read an audience well. Even though he may not quite understand the Australian accent yet, at one point he told the audience they felt "emotional". A weird stage presence, yes… but, ultimately, it's an endearing mannerism. It's probably a Canadian thing.
And then it was Angie McMahon's turn.
The night's headliner took to the stage, flanked by her two-piece backing band, to an expectant hometown crowd that was eager to hear new material and singalong to the already-released favourites (of which there are only a few – her debut full-length is somewhere on the horizon, though.)
"I've cried several times about the fact I'm playing this gig, mostly out of terror," she told everyone. She'd later explain that when they first put the show on sale – her biggest show to date – she worried that no one was going to be there and she'd be playing to a couple of "nice people." Her nervousness was all for naught though, with "Missing Me" proving an early highlight and McMahon putting on display her incredible and distinctive voice which absolutely soared through the venue.
A surprising highlight of the evening was a solo number with McMahon sat behind a keyboard. She explained that it was an unpracticed piece and that she had just written the second verse that morning. Despite the warning, or perhaps even because of it, the room welcomed its playful lyrics (including a reference to AMC's The Walking Dead) with open arms.
She also brought Vollebekk back to the stage for a couple of duets, McMahon explaining their connection – that she had loved his album and his music for quite a while and that the pair had been emailing, Vollebekk agreeing to make the journey to support her on this tour. Their collaboration climaxed with a beautiful cover of Bruce Springsteen's "Atlantic City". McMahon gave off a Florence Welch meets Stevie Nicks vibe; Vollebekk took the higher harmony but also threw in some harmonica for a bit of a Neil Young reference point. While McMahon giggled part-way through the piece, forgetting the lyrics, you could honestly bottle the chorus that they performed together and sell it for a whole bunch of money. Or at least whatever the value of a YouTube stream is nowadays.
McMahon would later draw on gender politics for "And I'm A Woman". The number talked about equality as well as respecting bodies and personal space – important topics that she doesn't take lightly, particularly as a woman in the slow-changing music industry.
Wrapping up the night, she warned the crowd that she would be forgoing an encore, instead throwing in two big singles to end her set. The upbeat, country-tinged "Slow Mover" received a massive cheer – and clearly ready for the aforementioned debut album to get its release.
While we wait for that, though, you can tell that McMahon will carry this Forum show with her for a long time to come. The entire evening had a celebratory feel to it. Maybe when she's headlining stadiums, she'll come back and do a special night at the venue to celebrate her big first year. And maybe you'll be lucky enough to get tickets to it.
Ditch This Magazine